tvrealm
we were supposed to create a "Fandom Realm" populated with tv characters who are in opposition to one another. I chose to do one on "The Law & The Lawless", in which I set the 'law' against the 'vigilantes'.
One of the things we could do was a fanmix. I chose songs that could fit either side or both sides. I deliberately stayed away from songs that were about the bad guys.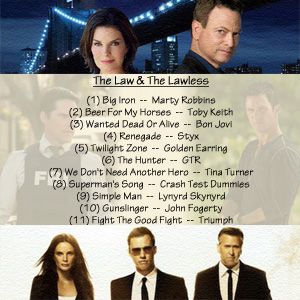 (1) Big Iron by Marty Robbins
(2) Beer For My Horses by Toby Keith
(3) Wanted Dead Or Alive by Bon Jovi
(4) Renegade by Styx
(5) Twilight Zone by Golden Earring
(6) The Hunter by GTR
(7) We Don't Need Another Hero by Tina Turner
(8) Superman's Song by Crash Test Dummies
(9) Simple Man by Lynyrd Skynyrd
(10) Gunslinger by John Fogerty
(11) Fight The Good Fight by Triumph
The music can be found
here
.
For the final challenge over at
Status:

ecstatic

Soundtrack:

Psych